Here's our maudern guide to giving good aural.
Long-distance relationships can be tricky for many reasons, not least of which is that it can be difficult to keep the sexual spark alive. And while the thought of it might make you cringe, phone sex is an excellent way to keep those home fires burning.
What is phone sex, exactly? That's up to your interpretation—but basically, it's any kind of dirty talk over the phone. It may or may not involve the removal of clothes, intimate touching, taking and sending photos, the use of toys, costumes, etc. Really: To each their own. The best phone sex is phone sex that you and your partner equally enjoy, and it can require a little bit of experimentation to determine what really gets you both off when you're not even in the same room as each other.
That said, if you've never done the digital dirty before, you might be wondering where to start—so consider this a guide on how to have good phone sex, whether you're in a long-distance relationship or not.
Amp up anticipation.
Especially when it's not a regular thing, it can be awkward to bring up the topic of phone sex out of the blue. Instead, give your partner a little hint that it might be on the cards via a flirty text telling them you can't wait to hear their voice tonight or that you've been thinking about them all day. Or, since it's much easier to say something via text, you could even get straight to the point and tell them that's what you're planning—that way you both have all afternoon to think about it. You can even think of it like a date; it's something to look forward to.
Don't forget to set the mood.
Even though you can't be with your partner physically, you can still set the mood to be a little more romantic. Dim the lights, ditch those sweatpants, put on something that makes you feel desirable (unless, of course, sweatpants actually do make you feel sexy), and light a candle for a little bit of ambiance.
You've got to get creative.
The more detailed and vivid you are with your descriptions, the more you'll stimulate your partner's—and your own—imagination. To make it easier, ask leading questions, like how they want you to touch them, where they want you to put your tongue, etc. Or start with a "confession" about something you've always wanted them to do to you and then describe it in detail.
Brush up on your grammar.
Oh, but grammar isn't sexy, we hear you say? Well, phone sex is a whole lot better when you use active verbs to describe things—suck, twist, stroke, tickle, pull, thrust, lick, caress … you get the picture. 
Expand your vocabulary.
Grammar is important; so, too, is vocabulary. If you're not much of a talker in bed, you might want to brush up on R-rated lingo that you don't feel silly saying. Think about how a word feels in your mouth (metaphorically, in this instance); what's your preferred slang word for a penis? Vagina? Breasts? Chances are, their proper medical names won't sound the most natural or sexy when you're talking in bed. 
Read aloud.
Reading can expand your horizons. And when it comes to phone sex, it can save the day when you're not sure what exactly to say. If you have a long-distance lover, you might enjoy reading an erotic novel together over the phone, but poems work great, too. If you're a history buff, start here, or if you want something a bit more romance, find more about erotica writing here. Bonus: As you read, you'll get a better sense of sexy grammar and vocab—so if, and when, you do decide to try out some dirty talk yourself, you'll be well more equipped to let the words flow.
Let the fantasies fly.
Since you won't need to worry about the actual physical logistics, phone sex is the perfect opportunity to indulge your wildest fantasies. So say, for example, you've always wanted to get it on in a restaurant booth, or up against the library stacks—things that, you know, could get you arrested for public indecency. Phone sex gives you the chance to go wild with that fantasy without fear of getting a criminal record. Plus, when you're describing a fantasy scenario, it gives you a little bit more to work with description-wise—so if you're nervous that you might not have the creative streak to have great phone sex, working with an imaginary setting can be helpful. For instance, if you're telling your partner how badly you want to take them to a fancy restaurant bathroom, you can set the scene: Would you lock the door? Would you set your partner against the sink? Or would you both squeeze into the stall? It doesn't have to feel like you're in Creative Writing 101, but working with a scene can help loosen you up.
Try roleplaying.
Not only does location not matter when you're having phone sex, but you can also take the opportunity to take on a wholly different character with some roleplaying. Whether you've always dreamt of getting it on Game of Thrones–style, or you have a hankering for a sexy doctor/patient encounter, sometimes pretending to be someone else can actually make you feel less self-conscious. Roleplaying can also help keep things moving because you have a scenario to follow, rather than just trying to think of things to say off the top of your head. You could begin by setting the scene and describing your character's personality before moving into the more sordid side of things. 
Play it like a game of tennis.
Just as sex IRL should be a reciprocal thing, make sure you take it in turns to do the talking. And like you would in any good conversation, try to respond affirmatively to what your partner is saying. The occasional sigh, mmm-hmmm, moan, or heavy breathing will do—just remember that since they may not be able to see you, you'll need to let them know what's working.
When in doubt, just whisper.
Trust us, pretty much anything can sound sexy if you whisper it slowly and keep your voice low (try it now, saying "I'm going out to buy some milk and bread," and you'll see what we mean). Of course, you might want to practice it beforehand, so that you feel comfortable with it. Another trick to warm things up is to start by reading a passage from an erotica novel out loud—well, in a whisper—and then transitioning into your fantasies. Talking slowly can also be helpful, from a seduction point of view and on a practical level: It gives you a little more time to think about what exactly you want to say next.
Revisit the past.
Think back to a time when you and your partner had really hot sex—perhaps you joined the mile-high club, or went for a literal roll in the hay at that cute little farm stay in the Hudson Valley. Phone sex is a great opportunity to relive that experience and describe exactly what it was that made it so hot. You can also embellish a little to make it even sexier—after all, it's your fantasy. Alternatively, you can look forward to the future: What are you going to do the moment you see your partner next? (Or, in a more fantasy version of real life, what would you do?)
Set your boundaries
Phone sex, as previously mentioned, is a great way to explore some of your wilder fantasies, like role-playing. But it's important to establish what, exactly you're comfortable with; just because you and your partner aren't engaging in physical intimacy doesn't mean that everything is on limits.
Of course, you might not know that you have a boundary until it's been crossed—and your partner has no way of knowing that you don't like something unless you tell them. If they use a name you don't like or say something that makes you feel uncomfortable, you can redirect them clearly, without completely stopping them—Cosmopolitan calls it a "detour." You can do this by having a safe word, or by simply saying, "Let's go back to when you…" Debriefing with your partner about what you liked and what you didn't like is a good way to know that you're on the same page for the future.
Have fun.
If you're not used to talking dirty, phone sex can feel awkward and a little bit cheesy. So just roll with it and don't be afraid to laugh at yourselves, but be careful not to make fun of your partner's attempts at it in a way that might make them self-conscious. Remember: it might take a little practice for it to feel natural, but that doesn't mean it has to be something that's totally off the table. 
Need some ideas for your foray into phone sex? Our beginner's guide to talking dirty is a good place to start.
Shop the story
burn no. 0
soy-based massage candle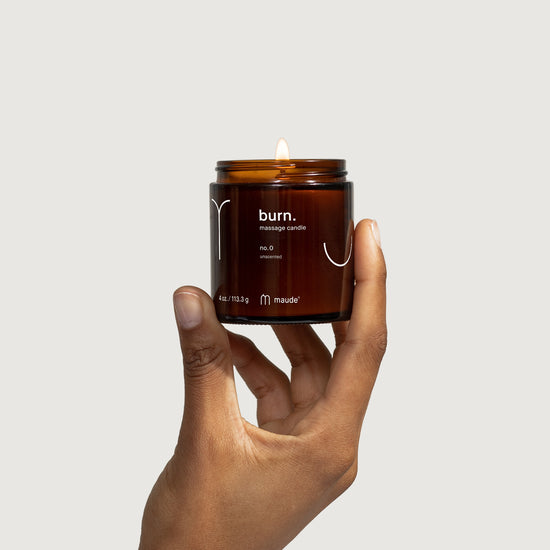 burn no. 0
vibe
3-speed external vibrator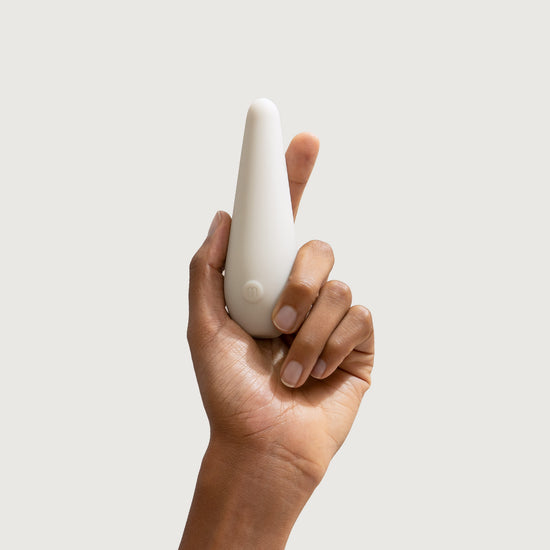 vibe