A timeline of truths & myths, from Cleopatra to hysteria.
It's true that vibrators are popular items among adults, but where exactly did they come from? Historically, they've been known to exist for thousands of years. Stories say that Cleopatra (69-30 BC) filled a gourd full of bees to stimulate her genitals, which even today remains a legendary story of the earliest attempted DIY vibrator. While there are no archaeological remains or concrete evidence to confirm Cleopatra's supposed invention, it's fun to think about these early trials—and even more so, to feel thankful for how far vibrators have come. 
Another popular legend and narrative of the Victorian era is that doctors invented the vibrator as a treatment for hysteria. "Manual stimulation was thought to help a wandering womb find its way back, and as the popularity of the treatment grew, so did the doctors' carpal tunnel. Thus, the vibrator was born. But as juicy as this bit of historical gossip seems recent research has debunked it," says Kait Scalisi, certified sex educator. 
While Cleopatra's bees and Victorian-era hysteria tales remain unconfirmed, vibrators and devices certainly have been in existence throughout history and date back to the Paleolithic era. Vibrators as we know them today came around in the 19th century. While they were used in medical offices, they were marketed towards all genders and for a huge variety of issues, ranging from impotence to asthma. Two of the biggest changes have been the power source—moving from water and hand cranks to C and D batteries, to USB rechargeable—and the shape, from strictly phallic to much variety. 
"One thing that's stayed the same is how society vilifies pleasure. Part of what makes the Victorian doctor myth so fun is this idea of people with vulvas taking their pleasure into their hands in a society-sanctioned way. It arouses images of drawing rooms full of ladies whispering and giggling as they pass secrets, and the doctors who don't know they're being used for pleasure. We've come a long way but there are still so many BS societal myths about devices and tools—that they replace a partner for example, " says Scalisi. 
Today, the technology and materials used have moved the industry forward in such a big way. "The vagina and anus are among the most delicate and absorbent tissues in the body. Anything that goes in or around them get passed to the rest of the body," says Scalisi. 
Choosing products that are made of body-safe materials like silicone, ABS plastic, stainless steel, glass, and wood decreases your risk of infection and irritation.
From home-made versions created 100s of years ago, to the new and improved choices we have today, vibrators have always been designed with a common goal in mind—pleasure. 
"Then and now, vibrators help to stimulate the most sensitive and pleasure-giving parts of the genitals: the clitoris, g-spot, and prostate. And the science backs this up. Studies show that cis women who use vibrators are about three times as likely to experience orgasm as those who don't. Plus, people who use vibrators report higher levels of overall sexual satisfaction," says Scalisi.
Timeline

69-30 BC: Cleopatra first tried to create her version of a DIY vibrator by filling an empty gourd with hundreds of bees. 
Victorian Era: Many associations have been made between vibrators and the diagnosis of hysteria with Victorian Era doctors. The condition was used to describe a multitude of ailments, including aggression, fainting and mental illness. It's said that women were treated with massage, and later with vibrators for various conditions.
1800s—In the 1800s, industrialization transformed many aspects of life including medicine. Later on, the first electric vibrator was invented by Joseph Mortimer Granville in 1883. Before this, the only similar machine that was on the market was Dr. George Taylor's steam-powered "manipulator table massager." 
1900s—Doctors and medical professionals tried to treat diseases with vibrators but found this unsuccessful. In 1915, the American Medical Association took a stand and called the vibrator industry "a delusion." Vibrator makers began to change their approach to advertising and started marketing them as "home appliances" for men and women of all ages. They ran large-scale ads in magazines and claimed that vibrators could cure everything from wrinkles to malaria. 
They started selling world-wide in department stores and popular mail-order catalogs such as Good Housekeeping. At the time, masturbation was viewed as shameful or obscene, so this meant that vibrators were not advertised to be associated with sex. Instead, manufacturers, low-key emphasized euphemistic language and imagery to sexualize the usage options of their products.
1920s—1950s: Alfred Kinsey first published his groundbreaking research on female sexuality in 1954. This included results stating that 62% of women surveyed had masturbated, although vibrators weren't mentioned in his writeup. 
1956—The Sears department store produced its own vibrator, which was advertised to give you that great-to-be-alive feeling." 
1970—In 1974, an article in Ms. Magazine by sex educator Betty Dodson proposed that women masturbate as a way of regaining their own sexual self-knowledge long denied by society. She also wrote articles extolling the virtue of vibrators. 
1980s—In the 1980s, masturbation finally went mainstream. The infamous Rabbit vibrator was created in 1983 by the company Vibratex. The company was the first to bring internal and external components to the US. They were brightly colored and made in animal shapes, in order to get around obscenity laws in Japan. The Beaver, the Kangaroo, and the Turtle were other models that all had internal, penis-like components along with different ticklers for external stimulation. 
1998—The Rabbit vibrator rose to fame, thanks in part to a guest appearance on "Sex and the City" where Charlotte becomes addicted to a Rabbit vibrator. 
2019—Today, vibrators are sold in a multitude of stores and are easy to purchase through specialty shops online. Even daytime shows such as Oprah have become open to discuss vibrators and their purposes. Thankfully, major shifts—such as more open conversation and making these devices more accessible—have occurred since the beginning of vibrators.
Shop the story
vibe
3-speed external vibrator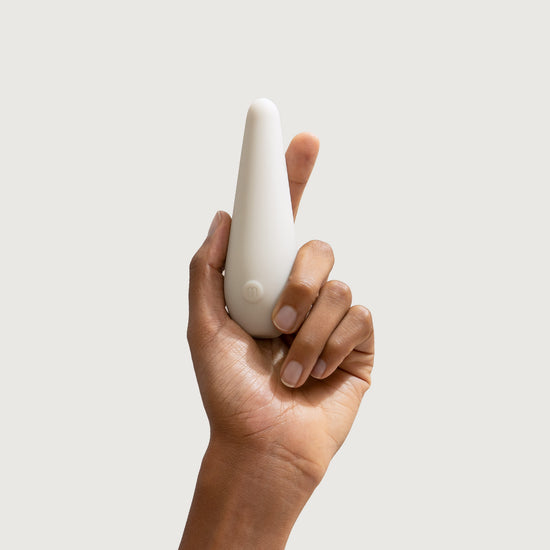 vibe