It's not JUST the mini shampoo bottles.
At this precise moment in time, the allure of hotel sex may have something to do with the fact that anything at all occurring outside the bounds of your own home is inherently sexy. But present tense stir craze aside, the hotel room has long been erotically symbolic—be it a matter of the stigmatized "love motel" ethos (whereby motels and hotels were utilized largely for illicit affairs of all kinds) or the simple appeal of Vacation Sex. 
But being that hotel rooms, themselves, are far from uniform, what is it that exudes sensuality in rented accommodations? Is it the stock art? The mini shampoo bottles? The little "do not disturb" sign hanging from the doorknob? Well, believe it or not, there's some research to draw upon. So, here's a top-level look at why your hotel room sex is so often of the five-star variety. 
Novelty

There will 
always
 be some sex appeal to shaking up your standardized routines—and spending the night somewhere other than your own bedroom is an easy place to start. But beyond the pleasantry of shifting your ambiance, a night spent in a hotel offers a blissful escape from any responsibilities that await you at home: dishes in the sink, emails to answer, floors to vacuum. It's a small respite from laundry, mail, and, well, any of the other unsexy day-to-day stressors that come with sharing life together. And a night spent somewhere that 
isn't
 outfitted with the same old family photo could be just what you need to allow yourself (and your partner) to get down and dirty. 
Vacation Sex

It goes without saying that vacation ups the ante on any/all forms of sexual intercourse. But whether you've found yourself in a rented bungalow in the Maldives, or a holiday inn just across the freeway, the *vacation sex* shtick still applies. You've dedicated this block of time to hedonism
—food, drink, and pleasure of all kinds. So it follows that an increased sex drive—and a willingness to go above and beyond in bed
—
would come in tow. Plus, with the vacay mindset comes the notion that every moment is precious...so you've got to take full (frontal) advantage.
Ambiance

Sure, from an aesthetics perspective, some hotels are inherently sexier than others. Nonetheless, there are a handful of design principles that typically ring true across the board. For starters, the decor will likely be fairly simple: Solid, muted colors, unobtrusive artwork, simple linens. In some cases, you'll surely find that the guiding design principle 
is
 sex appeal (low lighting, silken sheets, subtly erotic artwork), and in others, whether or not the furniture is oozing pheromones, the utter simplicity will help keep you grounded at the moment. Odds are, you won't be distracted by the blankness of the walls. And a little presence can go a long way in the sack. 
Room Service

Ok, an ice cream sundae delivered on a silver platter—and then consumed in bed—is inarguably sexy. But moreover, the idea that all of your physical needs can be met from within said room helps to keep the atmosphere blissfully charged. You've got nowhere to be and nothing to do—you need not exit even for 
sustenance
. Which is to say, you can devote just about all your time (and energy) to being, uh, horizontal. 
Check Out

It's not that one looks 
forward
 to check-out, per se, but rather, the notion that, at the end of your illustrious evening, you simply get up and leave. What happens in the hotel room 
stays
 in the hotel room (literally). Sure, that means you can leave behind soiled sheets, wet towels, empty glasses, the whole shebang. But it 
also
 gives you the freedom to act out of character—to relinquish 
some
 parts of yourself and lean into others. Then, after a wild night of erotic bliss, you shell out a tip for the hotel staff and make your exit. Period. 
Discover our travel size lubricants, candles, condoms and vibrators.
Shop the story
burn no. 1
soy-based massage candle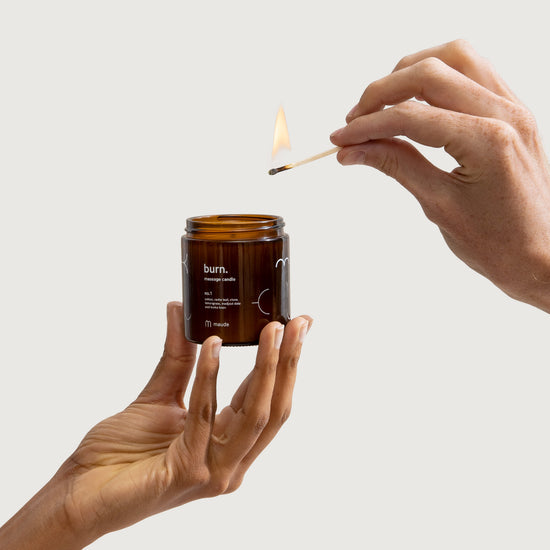 burn no. 1