Online dating may be the not-so-new norm, but it's not your only option.
We live in a culture of convenience. Whatever we want—food, groceries, laundry service—we can usually get with a few taps on our phone. But in the dating world, the "convenience" of swiping from the comfort of our couch in our sweatpants, beverage in hand, means that many of us have forgotten how to encounter a potential love interest in real life.
Seriously—if it seems like just about every couple you know is the result of an algorithmically fruitful match on a dating app, there's a good reason for that. Researchers at Stanford found in 2019 that the majority of heterosexual couples in the U.S. are more likely to connect online, not in person. If you've become frustrated by the apps, that might sound like bad news. But just because online dating has become the norm doesn't mean you can't still spark a new flame in person.
But meeting IRL does present some challenges that meeting in-person doesn't quite have. While everyone faces plenty of rejection on the apps, the sting of being ghosted before you even make it to the first date or not matching with a person isn't quite as bad as being turned down in person. Keep in mind that any person you approach in public may not necessarily want to chat (or even give you their number), but approaching them genuinely and respectfully gives you a decent shot of success. And, of course, if you're turned down—take it with stride and don't be a jerk about it.
Not sure where to find people or how to strike up a conversation? Don't worry—we've got you. Here's a refresher on how to meet someone IRL.
Start small.
If it's been a while since you've ventured into the analog dating world, the thought of approaching a beautiful stranger might seem super intimidating, so start with baby steps. Get in the habit of making conversation with strangers who you aren't interested in dating—it could be your Uber driver, your barista, someone in the dog park, or the person behind you in line at the store. The more you do it, the more relaxed and comfortable you'll likely become when talking to someone who does make your heart flutter.
Do something you love.
What's more attractive than someone who looks like they're genuinely enjoying life? Think about a hobby you've been wanting to try—abstract painting, whiskey appreciation, astronomy, stand-up comedy—and join a group that does it locally. You'll not only be doing something to make yourself happy, but you're more likely to meet someone who has similar interests to you—beyond just tacos and pizza.
Tap your IRL social networks.
Old-school social networking consisted of meeting friends of friends by actually hanging out with them. So instead of sifting through Facebook, ask your closest circle of friends—those who know you well and whose judgment you trust—if they know of any single people they can introduce you to. And if blind dates aren't your thing, organize a group hang where you can get to know potentials in a more casual context.
Look up.
This really should go without saying, but even if you're out in public to meet someone, that's never going to happen if your eyes are glued to your phone. After all, it's impossible to exchange meaningful eye contact or a flirty glance when you're constantly looking down. So whether you're on the subway, waiting for a friend to arrive, strolling the grocery-store aisle, or sitting in a café, put your phone away and see what happens.
Start conversations.
While the 2019 Stanford researchers found that people are more likely to meet their partners online than they are IRL, it did also find that a good 27 percent of couples meet at a bar or restaurant. That confirms it: The good old-fashioned meet-cute isn't officially over. If you're more of a straightforward person, a confidently delivered, genuine compliment can be the perfect gateway to a conversation but don't be afraid of starting small. "Come here often?" maybe a little played out, but that's not to say it's off the table.
Ask for a set-up.
Consider the beauty of the blind date: You can get straight to the point without all the small talk that comes along with online dating. If your friends or coworkers have a single friend that they think you might connect with, it's well worth a shot of meeting in person. To make it even more low stakes, you can ask for a subtle set-up at a party or more casual gathering. All you need is an introduction to sus out a potential spark.
Change your routines
Those who err on the side of being homebodies may (understandably) find it harder to meet people in person, but you don't have to suddenly discover a love for clubbing or bar-hopping if you feel obligated to do so just so that you can increase your odds of meeting a potential partner. Chances are, a person you vibe well with probably won't be hanging out in a place you don't frequent, either. But it can be helpful to shift your routines in a way that gives you more opportunities to meet new people. Work remotely from your apartment? Consider spending an afternoon at the coffee shop instead. Love your morning runs? Join a running group. Big reader? Join a book club—or be the person who says hello to the cute person they see in the bookstore (this is, after all, a fantasy of many literary lovers). Think about the ways you like to spend your time and make small adjustments.
Be patient.
If you've mainly focused your efforts on online dating, then be prepared for a mind shift as you look for potential partners IRL; while a meet-cute may be a romantic prospect, meeting people IRL does take actual effort and, most of all, time. Being open to the people around you can go a long way—but ultimately, it does depend on the time and place. Be patient, and don't let the wait get you down. 
Shop the story
vibe
3-speed external vibrator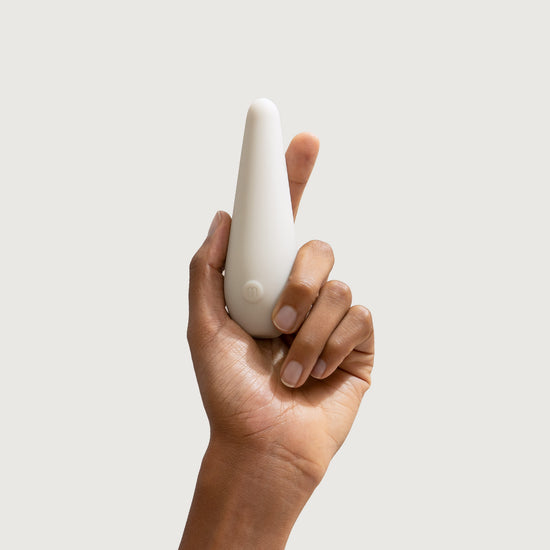 vibe