From curtains and bedsheets to bath towels and even candles.
The items we choose for our spaces become a natural extension of who we are and our lives at home. Instead of turning our intimate interactions into a highly compartmentalized part of our lives, we can incorporate certain elements into the everyday. Many businesses and marketing tools today never even mention the word sex, as it's often deemed a taboo subject. But considering both the physical and mental aspects of sexuality, in relation to our daily lives and spaces that we inhabit, is crucial to our overall wellness. Sex is just as important as any of the other activities we engage in at home, so it's important to shift the mindset. 
Creating living spaces centered around design that's functional but also comfortable can work to help us cultivate a better mindset that's focused on relaxation. Feeling at ease and less stressed in turn allows our minds and bodies to get in the mood for sex. The key is to surround ourselves with aesthetic, cozy spaces that are curated in a way that encourages us to feel our best, which can have a big impact on our overall happiness. We can recognize the essentiality of designing a home that supports our own priorities and needs, but not often do we think about design in the scope of our sex lives. So what does a home look like that considers design, in creating a satisfying and more intimately-focused space? 
Here's a list of ways to make sex a priority within our homes and favorite designed spaces. 
Consider the everyday
Ultimately, it's best to consider items that we want to use. Fill the home with things that will improve the day-to-day living situation but will also add something to the more intimate side of our lives. Creating spaces that allow us to embody sexuality and overall good feelings will allow us to keep that internal glow going… which in turn, can lead to using those spaces for more exciting things. When the time comes to get down to business, the external environment that we're surrounded by can play a significant role in setting the mood. Sex is something that's normally thought of as private and personal, so we tend to not give the topic much consideration within other areas of our lives. But can well-designed spaces help to encourage more healthy, satisfying sex lives? 
Change the mindset
Anything from artwork, to down comforters and furniture, can help us shift the mindset when designing spaces. Instead of simply choosing items that are functional, try thinking about basic home goods as items that could potentially encourage intimacy. Paying attention to our surroundings and giving regard to outward reminders can help us to keep sex on our minds more often. Something that exists in our external world that makes us feel sexy or helps us to embody sensuality within our environment can certainly keep sex as a priority in our daily lives and relationships. 
Create spaces for escape
Whether it's meditation we're craving, a little corner to exercise, or perhaps a reading nook to get away from it all—it's important to have places in the home where we can escape. Consider designing spaces where it's easy to spend time in a physically and emotionally restorative manner. If we're able to spend a few minutes meditating or reading in a quiet, beautifully designed space, we can ultimately clear our minds, feel rejuvenated, and find a sense of relaxation.
The Bedroom & Bathroom
The bedroom and bathroom are often places where sexual interactions go down. When designing these areas in our homes, it's important to play to the senses. Our external sensations of touch, smell, feel, taste, and sound all play a key role in setting the mood. That's why people often have more sex when they're away from home—in a nicely designed hotel room, or perhaps on vacation in a gorgeous resort. Often these spaces have been highly considered in regards to designing in an aesthetically beautiful way. Hotels also pay attention to thread counts of the sheets, textures of the blankets, the softness of the bathroom towels—all of the things surrounding us can certainly influence and create spaces that work to encourage intimacy. The furniture that we choose can also play into it. Our sex lives are such a central part of our lives in general, so it makes sense to consider this when creating the environment of our homes. 
Tidy up (but don't hide things!) 
Keeping rooms like the bedroom and bathroom tidy can definitely help to encourage an environment that doesn't hinder sexual activity. But it's also important not to feel shame in having sexual items out on display. Try to rid the space of other external distractions, such as turning off cell phones and televisions. It's a fact that relaxation plays a central role in our arousal. If there are piles of dirty laundry laying around and the bathtub is filled with used towels, it's more difficult to get in the mood. Keep things such as woven baskets around for easy tidying, or perhaps incorporate a beautiful wooden shelf for storage.
Shop the story
vibe
3-speed external vibrator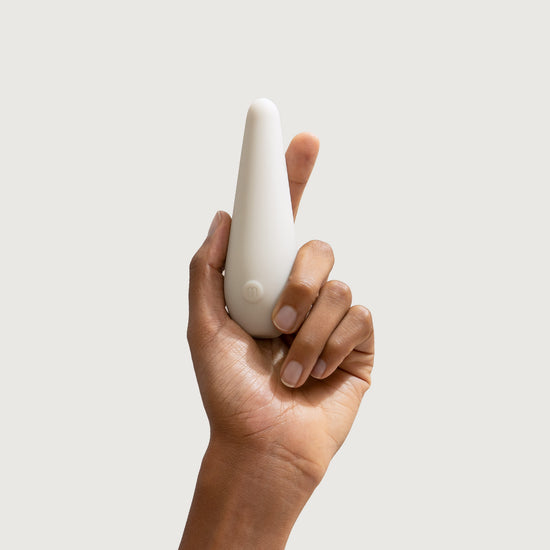 vibe
burn no. 0
soy-based massage candle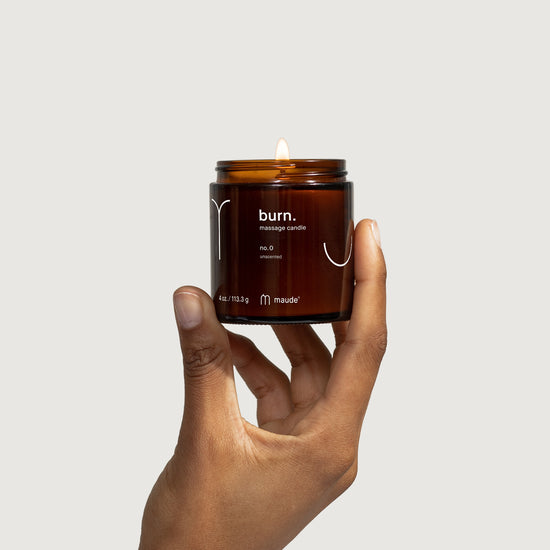 burn no. 0