In our Happiest Hour series with AMASS botanical spirits, we talk content and cocktails (or mocktails)—giving you everything you need to set the mood.
The temp rising is calling for things to get spicier, even if that's just from our living room. Continue to be your own bartender with a spicy ginger beer and vodka medley straight from the 1940s. Famously known for being served in a copper mug, the Moscow mule got its start in Hollywood when vodka distributors wanted to kick up sales. All we want to kick up is our feet with a midweek treat. This week's recipe comes straight from Robby, sales director, and longtime beverage expert, at the Los Angeles-based spirit brand, AMASS. Be sure to try a pared-down non-alcoholic version. 
Liquid courage.
Fire & Ice
what you'll need:
Ingredients:
2 oz AMASS vodka
.75 oz lime juice
.5 oz simple syrup
3 oz ginger beer
lime wheel, for garnish
how to do it:
Shake vodka, lime juice, and simple syrup for a few seconds with ice and strain into a copper mug with. Top with approximately 3oz of Ginger Beer. Garnish with a lime wheel or lime wedge. Drink!
for a zero-proof option:
1 oz lime juice
4 oz ginger beer
.5 oz simple syrup
2 oz soda water
lime wheel, for garnish
To read.
Nothing sounds better than sitting outside or on your fire escape with a good (and possibly steamy) book. Whether you are starting a book club with your friends or reading for your own pleasure, crack open something from
this list
.
Mood music.
We are ready to dance around the house in our underwear. Have a listen to something upbeat that we can get behind. Get the full Dance ready playlist
here
.
Shop the story
burn no. 0
soy-based massage candle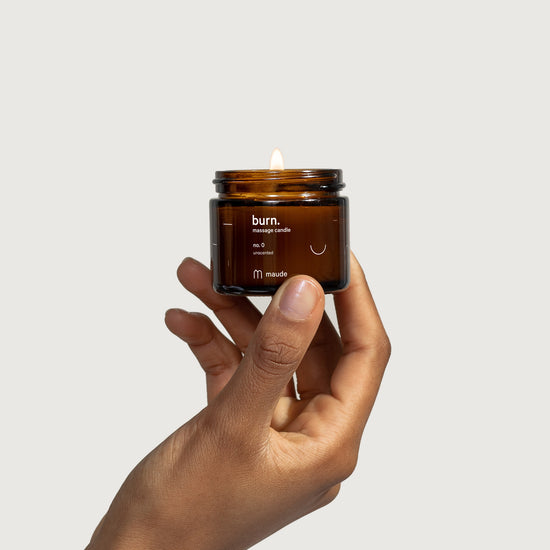 burn no. 0