Just what the love doctor ordered.
These days, getting relationship advice is easy. It's highly accessible from other peers, blogs, magazines, therapists, and even self-help books. But following through with the advice that we receive can be a difficult process. Of course, we can ask our best friends for their heartfelt opinions, or we can choose to read a vast array of materials that pertain to our love lives, but what's the use if we never plan to follow through? 
Today, there's so much smart advice to be found out there from a variety of sources but in truth, maintaining great relationships really isn't as hard as it sometimes may feel. Over the course of our lives, we'll statistically all engage in many relationships—some of us will even have them multiple times with the same person. And gaining clarity within these modern-day relationships can prove to be tremendously difficult, as so many factors play into it all. 
With an abundance of outside voices, it's important to sift through the information and simply pay attention to the opinions that we can truly trust. Relationships today exist in a larger context that revolves around both social and cultural aspects of life, so they've become more complex than ever before. Though relationship norms have statistically shifted over the years, there's still some long-established wisdom that can help us to see things differently, or perhaps transform the situation we're currently in. We have to seek out these new conversations in order to help us navigate the challenges, delicacies, and intricate details that today's relationships pose. There can certainly be a sensation of disarray involved with managing our own relationships within today's world, so it's necessary to evolve our conversations in ways that can greatly benefit ourselves and our partner(s). 
Here's our list of tips on how to follow through on the worthwhile relationship advice we get. 
1. Work at it
So many people start to feel that it's normal for relationships to become boring or static with time, but research shows us that it doesn't have to be true. Instead of falling into a pattern, we have to consider our relationships as worthy projects that take constant work. Being intentional with our own actions and communication patterns can be crucial to maintaining a healthy partnership. We know that all of the largest goals in life such as health, success, family, and a fulfilling career all take lots of work. So focusing on a relationship within those same standards of work ethic and progress can help us to devote more energy and time to making our partnerships the best they can be. 
2. Build things together
Though we sometimes have the best intentions at heart, it's difficult to follow through within the chaos and routine of everyday life. Implementing some kind of structure to help us remember to take action can be tremendously helpful. If we can learn to start each day with intent and goals in mind, it's easier to focus on the follow-through. We can also learn to set aside time weekly to communicate with one another, asking questions, and being honest about the week's events. Connect in conversation and use this as an opportunity to celebrate your efforts, or perhaps discuss the positive changes that you're seeing within each other. Working together to create a sense of closeness through open communication can be so powerful. 
3. Identify what you want
It's a simple fact that to achieve any sense of self-improvement and self-actualization, we have to work to identify our own internal value systems. So essentially, the key to finding that happy foundation within a partnership is to create important relationship values together. It's so important to decide what matters to you and your partner(s) most so that you can work to spend more time and effort on those things. While forming new habits isn't always motivating, connecting to one another and the underlying values that are driving our actions can be so powerful. This allows us to strive to be a better partner in highly specific ways that will work to enhance the inner-workings of our relationships. 
4. Be curious
Maybe it seems like common sense, but the reality is that we forget to stay curious about our partner(s). As time goes on, we often fall into a routine of everyday life and our sense of wonder, imagination, and playfulness can easily take the backseat. This is especially true in long term partnerships, as it's easy to feel like we've learned everything there is to know about our partner(s). Cultivating a sensation of curiosity for one another can keep us from settling into complacency, and it can also be really insightful. Make a list of both poignant and fun questions and spend time learning some new things about one another. 
5. Start somewhere
When trying to follow through with any relationship advice, the task ahead can feel exceptionally daunting. But instead of trying to revamp the entire relationship in one go, instead, choose a few small things that can be changed or improved. Not everything is going to transform overnight, and essentially we don't want it to because the process is part of the beauty. Take some time to sit down and think about three small changes you can make to better your relationship and go from there. It's easier to put a few little things into action and make those changes successfully than to try to overhaul the whole relationship all at once. Try making a list with your partner(s) and work to find closeness while creating a game plan for success together. 
6. Love the in-between
One of the hardest things to do is set aside our pride and fears in order to admit that we're not being the best partner we can be to our loved one(s), or that our relationship feels a little rocky. But vulnerability is truly our greatest strength. When we really try to connect deeply with our partners(s), the process can create more security and safety within the relationship. Within the process of trying to be a better partner, we're essentially trying to become a better version of ourselves. This takes work and dedication, as it's not something that comes easy, But working to cultivate a greater sense of happiness within our partnerships is one of the best problems that we could ever devote ourselves and our lives to solving.
Shop the story
shine organic
aloe- and water-based personal lubricant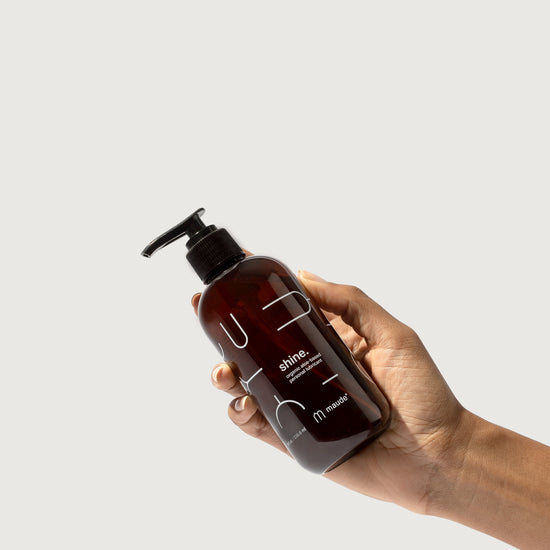 shine organic